Would you like to be a confident climber?
Is your headgame holding you back from pushing your grade?
Can you stay focused under pressure?
Want to train your mind to match your strength and technique?
NEW BOOK
Climb Smarter
Climb Smarter is a practical guide to mental skills training for any climber wanting to improve their head game.  With a comprehensive guide to what psychological skills are important for climbing, sections on managing common worries in climbing, developing visualisation skills, focusing attention, confidence and wellbeing, this book covers everything you need to train your brain.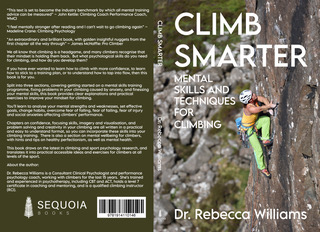 Consultant Clinical Psychologist and Performance Coach
Dr Rebecca Williams BSc DClinPsy,
HCPC registered
I offer psychological and mental skills coaching to rock climbers who would like to develop focus and flow, overcome fears and anxieties, improve their motivation and tactics, and develop the right psychological mindset to improve their climbing.
I'm qualified and experienced in using cognitive-behavioural techniques, mindfulness and mental training skills, as well as using graded exposure in a safe, supportive way to help you overcome your fears around leading or falling.,
Coaching can be delivered face to face or online via Zoom, for individuals, groups or instructors, and I can also deliver workshops and lectures at your local climbing wall, club or conference.
WHO DO I WORK WITH?
Climbers of any age or level of experience, from kids needing to develop confidence, novices with a fear of heights, weekend warriors wanting to close the gap between their top rope and leading grades, competition climbers wanting to improve their focus and results, to pro climbers who need to stay psyched for long term projects, and everyone in between.
Coaching for Individuals and Climbing Partners

Bespoke sessions for you and your climbing partner to maximise skill development.
Group Coaching


Learn alongside likeminded climbers and gain the advantage of extra support from the group.
Lectures & Workshops / Coach Education

Designed to make psychological theory practical and specific to climbers.